Hello everyone,
I am writing this while I am in ICELAND!!! EEEEEP someone pinch me! Today might be more appropriately described as #MiaBlundersThroughIceland, as it was a smorgasbord of small blunders that resulted in lots of laughs and great memories.
Here are the highlights:
1) We had misplaced the name of the street we were staying on, so we had to guess when we told our bus driver where to drop us off (luckily for us, our bus driver was very nice and knew what street we were trying to say). Also, they overbooked the bus, so I ended up sitting in an emergency seat over the bus stairs, which was alright by me, as it gave me an unobstructed view of the Icelandic countryside through the front window.
2) We arrived at our apartment early, so Ilse and I sat on the steps and laughed about the small mishaps we had already made. Also I tried black licorice salt candies (it was not a pleasant experience), and Ilse made friends with on of Reykjavik's many cats (a much more pleasant experience).
3) Turns out our shower door doesn't close all the way, which I discovered when I mini-flooded the bathroom this morning (whoops). :'D Since then, Ilse has figured out how to move the shower head so that it doesn't hit the door anymore. Also, the water here warms up within a minute of being turned on and is deliciously hot.
4) By this point both Ilse and I had been awake for way too long, so we took a nap... until 3:30 in the afternoon! Whoops! While it took away from our time to explore, the extra Zzzzs gave us the energy to go pick up groceries and then explore the city- and oh yeah, did I mention that the harbor is surrounded by stunning mountain views?
5) At around 8 we walked into a cute basement restaurant where we ate out of Mason jars and I tried sweet potato fries with a vanilla yogurt based sauce and royal pudding, while Ilse had lamb, fish, wild game, and hummus based dishes (her comment on them was a very happy YUM) . We then headed back to the harbor, where we met a gentleman who was fishing from the pier and cleaning his catches right on the dock- he didn't see us at first, so we almost got smacked by one of his catches (whoops!). It was worth being almost smacked in the face by a fish, however, as we found a perfect spot to watch one of the most stunning sunsets I have ever had the pleasure to witness.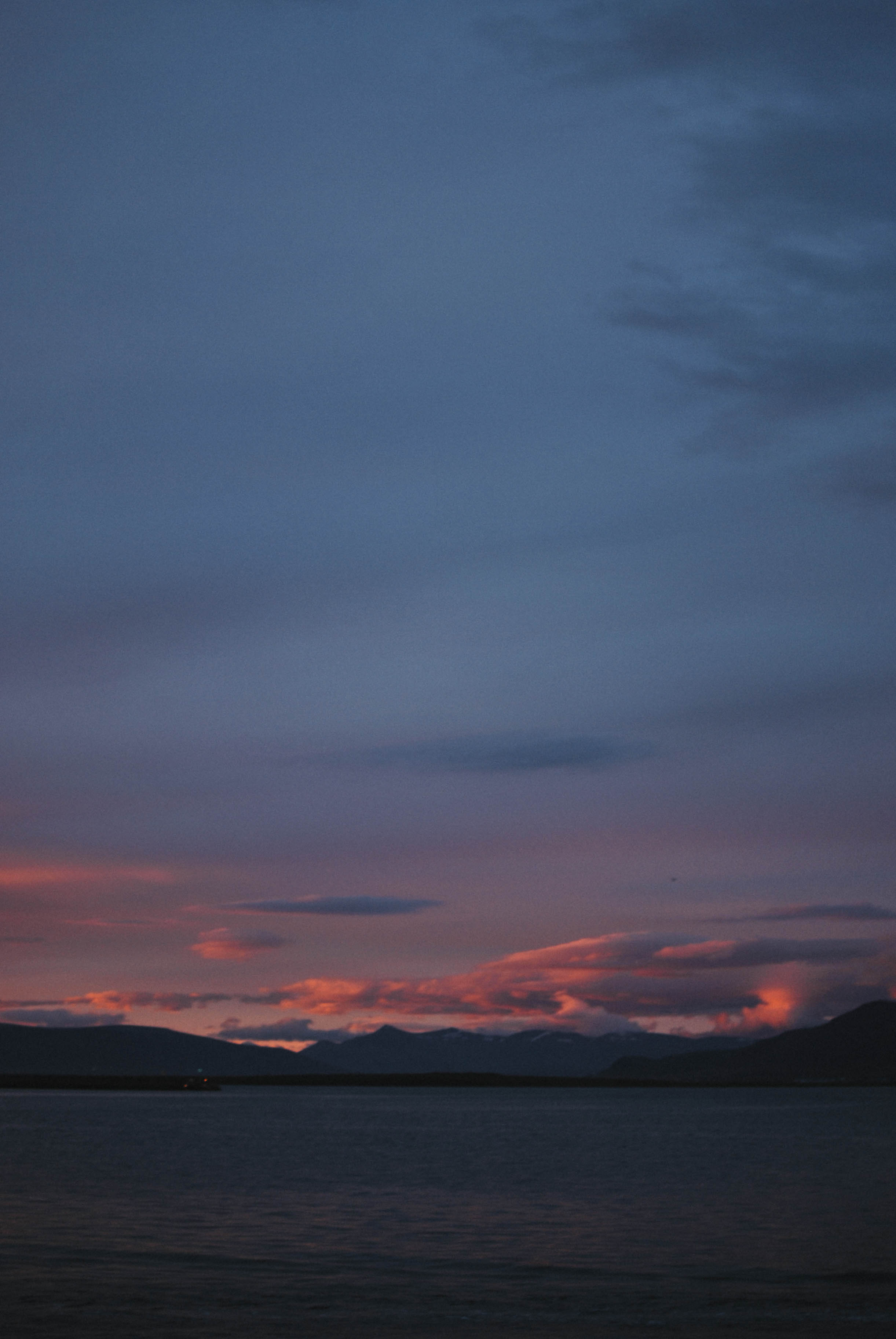 6. We ended our day relaxing in our beautiful apartment, working on our computers, and watching the first few episodes of Sense 8 on Netflix. All in all, it was a perfect first day in Iceland. I can't wait to see what adventures and laughter the next few days here bring!
Until next time,
AK